Ways To Make Money Online
Ways to make money online are similar to making money in the real world, you sell things to your visitors. Just like in the real world you would provide your customers with relavant products they are looking for when they visit your website. You wouldn't try to sell hair spray in a florists or cat food in a Bakers and so the products you focus your customers on must be relevant to your sites content.
There are several different types of goods and ways to make money online which are slightly different than in the real world and this gives you far more opportunities. In the real world you have to stock real goods to sell to your customers and this incurs lots of overhead expenses for you as a business. But online you can sell other peoples goods and hold no stock at all or even create your own virtual goods such as ebooks and mp3's.
Below I have highlighted several of the main ways that you could add an income stream to your website. You don't even have to stick to just one model in fact it is recommend that you diversify how and what you sell to increase your chances of success.
To find out more about each of them and how they can be integrated into your website click the links or pictures.
Affiliate Marketer – if you don't want to have a business where you have to hold lots of stock, then affiliate marketing is for you, it s so simple.

You build a website with interesting information about one of your passions and which your visitors will be interested in and alongside your information you place ads to relevant affiliate companies. It's a win win situation, your customer get information they are interested in fro free and are also presented with relevant products and you earn money every time they buy.
Selling E-goods?– An E-good is something which can be delivered electronically and so is inexpensive to produce and can have high profit margins. E-goods consist of eBooks, mp3's and online courses.

So for instance, if you enjoy Spanish cooking, why not build a website all about Spanish cooking and sell your own eBook about the subject from your site too.
Selling Hard Goods?– Of course if you prefer to sell and stock goods directly then your website is your very own store front. No need to pay overheads such as rent and power bills.

This is one of the most common online business ideas adopted and there are many ways available to you to take payment directly online. you really don't need a real world shop front.
Adsense - This is the ultimate in passive income for any online website business. Adsense is a program run by Google whereby related ads to the content of your site are displayed and you are paid every time someone clicks on those adverts.

This is one of the main ways to make money online for infopreneurs as it does not require you to have any interaction with the customer at all. you simply create a your site about your chosen subject and place the adsense ads on the page.
FREE EBOOK
To find out even more information you can download this free ebook all about how to make your site sell. It is really a book worth reading if you are serious about ways to make money online and to create a long lasting online business for yourself.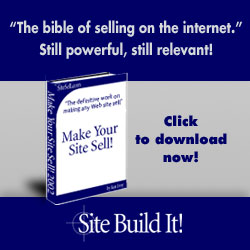 Financial freedom is possible with hard work and determination and as you can see having a home based business online isn't as out of your reach as you may have thought, anyone can do it.
Being frugal can also mean creating a new more secure future for you and your family where you are in control and not at the mercy of bosses.
Did You Like This Page? Why Not Let me know.
---
Home

>
Home Based Business
> Ways To Make Money Online