Financial Freedom 
Work From Home, I Do
Financial freedom is everyone's dream isn't it? To be able to live your life without the worry of paying the bills and enjoying life to the full. Ah! I know I certainly felt that way when I was working my 9 to 5 office job.
I was living a frugal lifestyle even back then and so felt positive about how I was spending my money.
All my friends thought I was mad and kept telling me to splash the cash while I had it. They would buy expensive labelled clothes and get their nails done almost every week that life just wasn't for me.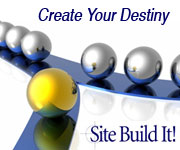 The trouble was that even though my job paid me well I still felt that I was leading an empty and pointless life. I needed my own financial freedom away from the 9 to 5 and the only way I could see to do this was to be my own boss.
This area of my website tells you what I did to get out of the rat race and how I found a real way to make money online working from home. I think this has become even more relevant over the past few years because of the world recession and with many people losing their jobs and worrying about their future. So I hope you find inspiration here on my pages.
Start Own Online Business Pages
| | | |
| --- | --- | --- |
| Blog or Webiste? | How To Build A Website | Online Business Ideas |
| How I Built My Own Online Business | Make Money Online | |
Financial Freedom Pages
10 Reasons Why You May Be Looking For Your Own Financial Freedom
Debt reduction - debt is a disease our modern society seems to be breeding and the outlook doesn't look like it is getting any better for many people. Part of living a frugal lifestyle is to avoid debt and to live as simply as possible. So finding a way to earn extra money to pay off any outstanding debts or to make sure that you don't get into debt is one of the main reasons for finding financial freedom. 



Unemployment - The world recession has made unemployment more of a problem for more and more people. With jobs being hard to come by and well paid jobs even harder to find, working for yourself is becoming a more attractive option for many.


Retirement - Just because you retire doesn't mean you couldn't do with some extra cash to keep you financially secure. For many the prospect of retirement worrries them and they would rather keep working to some extent in a part time capacity.


work life balance - This is a particular problem for many fathers who find that they are missing out on family life and spend most of their time at work. Many people are seeking a better work life balance and working for yourself can be the answer to this issue as you will have more control of your working hours.


Saving money for the future - of course working for yourself can mean working part time for some extra cash to save for the future. I know that many of my friends have two jobs but would much prefer to work for themselves at home for their extra income. Financial freedom can often mean having enough money for your later years and not having to worry and that is where saving comes in.

Rat race – If you are like me then the rat race is simply not for you. The thought of travelling to work every day on cramped trains or spending most of their life in a soul destroying office is simply a nightmare. This was what made me take a different path and work for myself at home.


WAHM's (work at home mums) – Women today want and deserve more than just being housewives if they wish and having financial freedom. Indeed many mothers have to work just to pay the bills and so the best option for them is to be able to work from home and care for their children at the same time. Although this may impossible, believe me I know plenty of women who do this successfully.


Residual income - In today's uncertain job market the thought of losing your job can be a real issue. Many people are looking for a lasting income stream which they have control of themselves. Being your own boss puts you in the driving seat and can give you this residual income. Even small investors can buy stocks online without a broker.


Working from home – Perhaps you are just the sort of person who just wants to work from home as simple as that. I don't blame them either. My office is my small back bedroom, it is decorated how I like, it is quiet and it overlooks my garden, what more could I ask for.
Is Working For Yourself Easy?
I will begin by saying that working for yourself is not easy; if it were then everyone would be doing it. If you think that there is easy money to be made online then forget it. If you are really looking to earn money online and be serious about running your own business then you will have to work hard and treat your home business just like any other business. I don't know any successful companies who simply sit back while the money flows in (if you do let me know). There really is no such thing as an easy income.
However hard work does pay off and this is especially true if you take the advice of people you can trust. I was lucky I eventually did find people I could trust and it has really paid off, at last my at home online businesses are working.
So How Do You Find This Financial Freedom?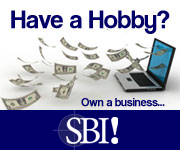 Well there are of course many ways you can work for yourself, you could start a shop, open a café, run your own manufacturing company, the list is endless. But for these pages I am going to tell you about what I know online business.
This is the one way I know that allows you to truly work from home and which has low overheads and the least risk. it also works well with my frugal living lifestyle as I can control costs and keep them very low, as well as keeping my work life very simple. My full story is here.
Just as there are many small business ideas there are also many online business ideas too and I will go through a selection of these to help you get your thinking caps on and find the right online niche for you.
The next section is all about actulaly going about deciding what sort of online business you would like to do and how to build your online website buisness. It will also cover the many ways there are of how to earn money through your website, such as affiliate marketing.
My frugal living lifestyle has gone through many changes but by far the biggest was finding my own financial freedom and I hope to pass on some of my experience to you.
Did You Like This Page? Why Not Let me know.
Back to top of this Financial Freedom Page